Robust and flexible solution for washing of sewage pumps and machine parts in general.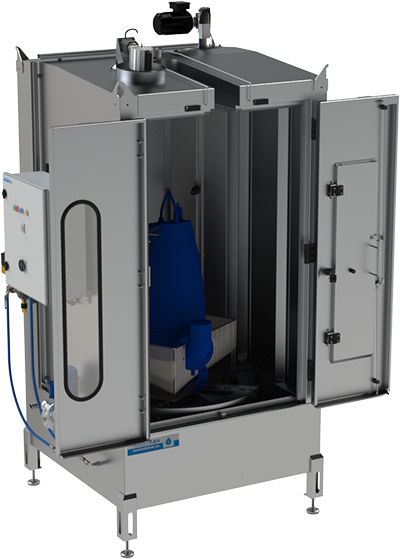 A timer is set at the desired wash time, the start button is activated, after which a frequency controlled rotary stool rotates the wash past the wash nozzles while flushing in a vertical motion for optimal coverage.
En timer indstilles på den ønskede vasketid, startknappen aktiveres, hvorefter en frekvensstyret drejeskammel roterer vaskeemnet forbi vaskedyserne, mens der spules i en vertikal bevægelse for optimal dækning.
I std.-versionen kan der via vaskekabinens egen styring tilsluttes pumper både direkte (max. 32A) samt større pumper via en relæudgang. Dermed kan der vælges pumpe efter ønsket medie / tryk.

Vaskekabinen er som standard udstyret med en aktuatordrevet, bevægelig dysebom for højtryksvask med højt tryk. Kabinen er også forberedt for montage af et dyserør med faste dyser til lavt tryk / stor mængde (eksempelvis spuling med teknisk vand). I drejeskamlens midte er desuden monteret en fast dyse for spuling af pumpens bund. De bevægelige turbodyser, afstemmes efter ydelsen på den aktuelle højtryksrenser.

Under vask oplyses kabinen og man kan følge processen gennem det indbyggede vindue. Et kranspor i kabinens top giver let adgang for håndtering af tunge vaskeemner med kran.

Den automatiske vask kan suppleres med manuelt højtryksspul via den indbyggede lem i kabinens front, eller isætning af en ekstra horisontal dysebom, som giver optimale muligheder for vask af mindre maskindele.
Hvis højtryksrenser er tilvalgt, medfølger en spulelanse og manuel omskifterventil mellem dysebom og lanse.

Kabinen er enkel at placere med kran (integrerede løfteøjer) eller truck. Udsugning kan tilsluttes den indbyggede studs i kabinens top.

- See our pump washer video presentation on Youtube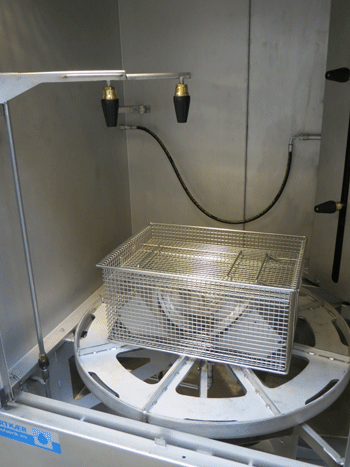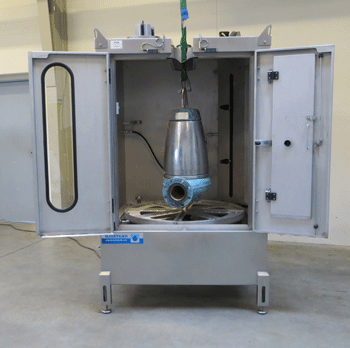 Features
The cabin is delivered in 2 height versions for cleaning of item heights up to (H x W) 1050 and 1400 mm x approx. 700 mm.
Built-in inspection window, spray opening with inner door closure and cabin light.    
Built-in safety circuit for stopping the rotation and external pressure pump in case the front doors are opened during operation.
Easy to place and mount.
The cabin is built entirely from stainless steel AISI 304 / 1.4301.
Options for washing of small machine parts (horizontal nozzle boom), stainless steel basket, automatic valve for pump start and extra high pressure lance can be selected.


     The HM Pump Wash Cabinet ensures great flexibility, optimal spray coverage and a highly optimized working environment.