Safe and monitored acid distribution and rinsing of sludge dewatering and filter units
For centralized, controlled and secure distribution of acid to dewatering equipment, we offer our ARU101 and ARU104 acid dosing units, especially designed to handle this task.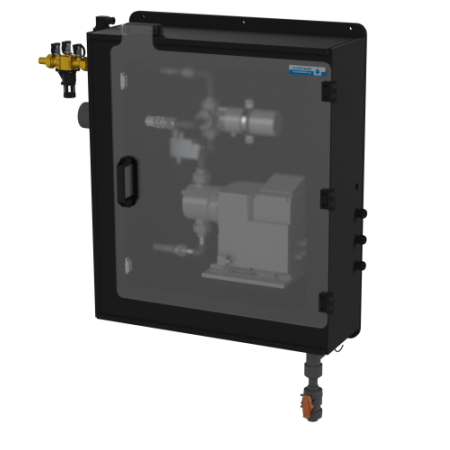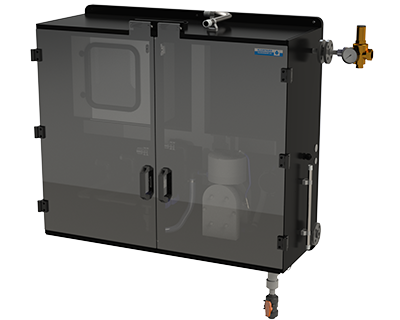 Both units have been prepared with all mechanical components such as valves, distribution pump and connectors for signals, power and compressed air. In addition, the units are prepared for integration into a safety-related control system, ensuring that access to the dosing unit itself and connected dewatering equipment (eg screw press, drum thickener or microfilter) can be monitored.

The logic of the dosing units is designed to initially perform acid rinse on the connected dewatering equipment, followed by flushing of the complete system with fresh water. In neutral position, the default supply is water.
ARU101 can be connected to a single dewatering unit (eg drum thickener or screw press) and performs acid treatment processes at intervals, defined according to our programming description in an external PLC control.

ARU104 can handle acid treatment on up to 4 permanently connected dewatering units.
Acid distribution can be established immediately as an option on all our dewatering units such as IEA screw presses, MF Microscreen filters and RDS rotary drum screens / thickeners. These units have all been prepared for mounting separate acid rinsing nozzles and secure connections for acid distribution via "tube in tube" or "tube in pipe" from the dosing unit.

The ARU units are built with acid-resistant, fluid-affected components according to our instructions on choice of acid types and concentrations for deacidification of dewatering equipment.

Both units are prepared with connection boxes for simple integration of power and control signals from a main PLC system control.