For optimizing reject water from dewatering installations or technical water for reuse purposes.
The Microscreen filter is available in 2 models / sizes; MF600 and MF1000. The large model has approx. 3.5 x larger capacity than the small model.
The filter drum is designed with a very open structure and can be equipped with filter cloths in stainless or synthetic material to achieve the optimal degree of cleaning for the current task.
The capacity of the filter depends on the selected filter cloth (50 - 600 microns) and the composition of the medium.
Clamp connections for turbidity measuring equipment and sampling are prepared in the filter housing. The clamp system is easy to disassemble without tools and alternative pipe dimensions can be connected to the union.
All media-wetted components are made of stainless steel / can be delivered in acid-proof version.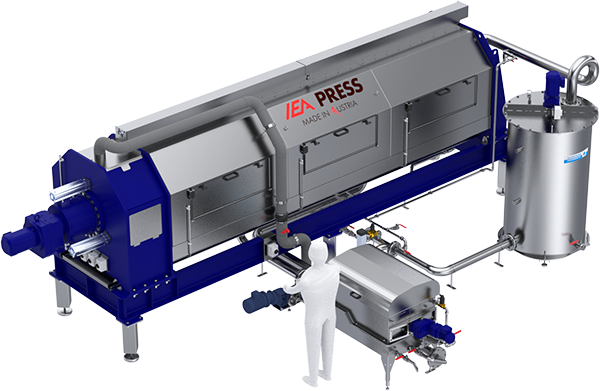 A typical installation example of a MF600 Microscreen filter optimizing the filtrate from an IEA screw press.
Contact us for more information on the use and limitations of the MF Microscreen filters.