Reliable and energy efficient separation and thickening.
The RDS Rotary Drum Screen is designed for reliable and continuous separation of industrial wastewater and sludge thickening.
The RDS is available in 3 models / sizes; RDS06, RDS10 and RDS10-2. The largest model is built with 2 drums and has almost 6 x larger capacity than the small model.
The drum is directly driven, built with an integrated conveyor spiral and as standard operating at an inclined angle. The cabinet is equipped with large, foldable doors on both sides for optimal service access.
The drum is rinsed via a built-in nozzle tube, in some cases combined with rotating round brushes (only available on drum perforation of at least 1000 microns). As an option, a servo-driven spray bar with turbo nozzles can be mounted in one of the cabinet's top hatches.
The drum screen comes with a hole perforation between 600 and 2500 microns, depending on the specific needs and media. In addition, the execution of the unit varies, depending on whether it is to be used for sludge thickening or wastewater filtration.
The unit is built entirely of stainless steel and can be delivered in full acid-proof version.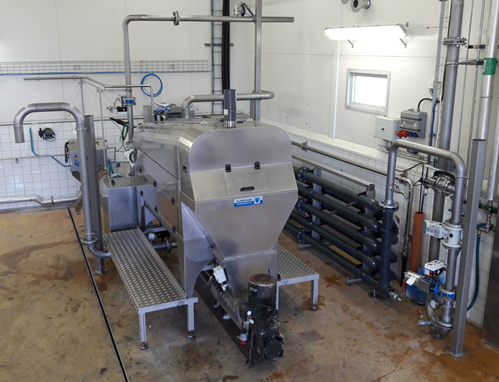 RDS10 Rotary Drum Screen for wastewater separation
at a pig slaughterhouse.
RDS10-2 double Rotary Drum Screen installed for sludge
thickening at a municipal wastewater treatment plant.
Contact us for more information.