Fully automated solution with large capacity, working at your site..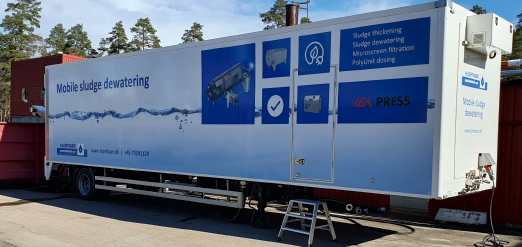 Fully automated sludge dewatering with great process surveillance and large capacity

All process components are controlled via the trailer's system control, built with our CPS1200 standard logic. Operation is controlled via a large, centrally placed operator panel, offering a graphic overview and handling of error logs.

At the same time, HJORTKAER has full access to remote support via mobile data and the integrated communication module.
The dewatering trailer has the capacity to handle sludge from a major Scandinavian provincial town. The drainage takes place with the market's most reliable and energy efficient equipment.
- Therefore, you may get a very positive experience looking into the energy consumption of the drainage process, compared to your existing equipment..

Easy start-up

The trailer is equipped with external connectors and couplings, enabling quick commissioning on site. Normally the unit can be in operation within a few hours of arrival.

Behind the trailer, containers of different sizes can be set up to receive the pressed sludge cake. The built-in screw conveyor is hydraulically maneuverable, making it easy to position the conveyor correctly over any container.


Benefits and essential features
Insulated trailer with dual heating system (oil burner and electric heating) for stable operation in all weather conditions
Built-in hydraulic loading ramp for easy handling of, for example, polymer containers
All necessary hoses, cables and pumps are on board
Built with IEA SP-HF07 screw press and MF600 Microscreen filter for efficient dewatering with optimal reject water quality
Combined polymer dosing system for both liquid and powder
Full process control via our CPS1200 system control with remote support
Integrated screw conveyor with hydraulically driven positioning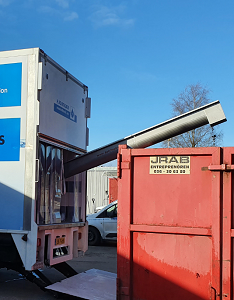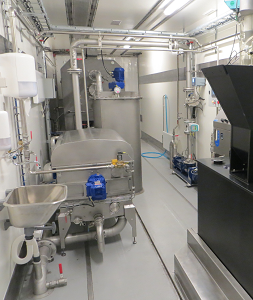 Contact us for more information..